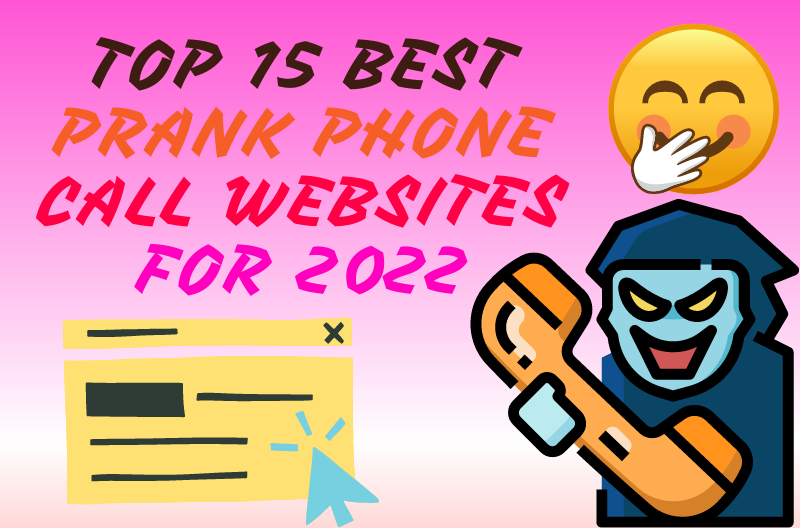 The world is on fire. The daily grind grinds you into the ground. You know what you deserve? A good laugh, and there is no better way to get a good belly laugh going than a good old-fashioned phone prank.
Let's take a look at 4 of the best prank phone call websites and find the one that suits your tickle bone.
Blow Up The Phone is easily the best phone call website out there. You can send hundreds of prank text messages and phone calls using different phone numbers every time. It is a fun way to keep your friends and family guessing.
The USPS is typically a nightmare on a good day. Blow Up The Phone takes a hellish customer service experience and turns it into a barrel of laughs.
Them: Hello
You: Hi, I'm calling from the United States Postal Service, and it looks like we will stopping your mail after tomorrow. So sorry about this, as you know, budgets are forcing us to cut back. If you hold, I can transfer you to the customer retention department. Please hold.
Insert happy muzak.
When the customer retention department picks up the line, hilarity ensues for only another full minute.
Spoof Box has tons of options and even offers an interactive mode so you can taunt your victim, we mean target. And group prank calls are tons of fun, too.
What is more nightmarish than losing your Internet? Your friend will be glad it is just a prank when the phone call is over.
You: Hello, and good day. This is Max Prince from your local internet support station. I'm just calling you to let you know we have to switch off the Internet in your area for about two weeks.
If your friend doesn't stroke out, it doesn't end there.
PrankHotline gives its users three free prank phone calls. The prank phone call website is user-friendly, with tons of fun options to poke at your friends when you're bored or just need to let off a little steam.
Pizza delivery has never been more important. Over the last couple of years, everyone has gotten pizza delivered at least once. Which means most people can totally relate to this prank call.
You: Hi, it's Nick Pizza here. I just want to know where to drop off these pizzas. Uh, I'm not sure where to find your house. Was it a road? Was it a street? What exactly was it?
Pause
Look, you ordered about 20 pizzas and three cokes…
And, for nearly another minute, you convince them that this is their pizza.
Sometimes it is hard to keep a target on the phone long enough to get the joke. Many of the pranks available on ComedyCalls slam it over the fence within seconds. It is hard for your friend to hang up when they're at the very least intrigued.
Whether not you like cats or not, cat facts are fun. ComedyCalls turns cat facts into a purr-fect scenario.
You: Thank you for signing up for cat facts. You will receive a phone call every day for the next year. If you wish to cancel, please say I love cats.
You: Sorry, voice not recognized.
And then, cat facts. It is a harmless prank phone call that will not only make you smile, but your friend will also smile for days after.
Ownage pranks is one of the most popular prank calling websites; in general, this website is designed for Arabic-speaking nations. If you are from the Gulf region, this prank calling site may be the ideal alternative for you. You will be presented with many prank call alternatives, such as Arabic stay away from my girl, humiliating Arabic drugstore, Arabic cease calling my number (female voice), and so on. You'll see a button to the right of each prank calling choice to send this prank. You can also use their spoof software to create fake calls and keep your details confidential while phoning and messaging.
Prankcaller.io is yet another excellent prank calling website. This calling site's Android and iOS applications are free to download from the Google Play and App Stores. The website is really easy to use, and the user interface is appealing and current. There are several types of prank calls available on the internet, such as why you called my boyfriend, you hit my vehicle, secret crush, STD clinic, your dog busted my yard, and many more prank examples. Click on any of the prank alternatives to open a new window with the ability to make a prank call by inputting your friend's phone number and the false caller ID number and clicking.
Prank dial is one of the greatest and most popular prank call websites, offering a broad variety of pranks. To have some fun, anyone may make a prank call to their friends and family members. All of the pranks on this website are completely free, and you will not be charged a single thing. Prank Dial – Prank Call App is also available for Android and iOS. You can download Prank Dial – Prank Call App from the Google Play store and the app store.
Comedy calls also provide a variety of amusing prank calls that may be issued to anyone. The goal of this website is to make you laugh while avoiding irritating phone calls. This website's operation is quite basic.
To make a free comedy call, simply select an amusing call from the website database and input the receiver's (your friend or family member's) phone number. This site also allows you to fake your caller ID, schedule a call for later, and access an ad-free environment.

Gene dials a number from one of the most prominent prank-calling websites. This website functions similarly to the Spoofbox prank calling site in that you may make spoof calls as well as group calls. When you enter the website, you will see a range of call recordings on the home page, and you may choose any of them to make a prank call.
After you've chosen the recording, click the Call icon. In the following box, you can pick between a basic prank call, a spoof call, or a group call in which you mask your real phone number with a false one.
It is a prankster website as well as one of the most popular internet radio shows, featuring live comedy and prank calls. Having a vast database of free prank calls that may be downloaded as an mp3 file for different usage. I enjoy this service because it is ideal for generating innovative prank calls online that appear genuine to the receiver.
My Phone Robot is another great free prank call website, however keep in mind that it is only available to users in the United States and Canada. This website's primary features include false text, phone spoofing, prank call history, and the ability to send a pre-recorded prank call to your adversaries.
This website is one of the most popular prank call stations for residents of the United States and Canada. It provides its customers with access to a massive database of prank calls and clippings. This website describes each prank call before sending it to a buddy to help you decide which call to make to which type of person.
Prankowl is another entertaining website where you may send free prank calls. It functions similarly to a prank dial, but it has several unique capabilities such as hiding caller ID, transmitting pre-recorded sounds, and so on. To have access to further premium features, you must purchase tokens.
Wacky prank calls is a prank calling website established in the United Kingdom. If you wish to perform a prank phone call with a friend or loved one but are worried of being discovered? Don't worry, you can accomplish it using the Wacky prank call website. This website allows you to make an infinite number of prank calls. Wacky prank calls is a humorous portion of wind-up calls that you may play with your friends, family, or anybody you want to contact.
It's also a fantastic prank-call website where you may trick your pals. The nicest aspect about this website is that you can generate a bogus caller ID number and modify the caller's name. This website's UI is likewise extremely user-friendly. You may use the photo to make a phony call with any prank calling theme. You may also make a phony phone call.
Don't Take Life Too Seriously
Prank phone calls don't hurt anyone. And, if at anytime your targets want out of the circle of fun, a prank phone call website allows them to opt-out using simple methods. You don't want to prank someone who takes life too seriously, even if they obviously need a good laugh.
Most prank call services are available in both the US and Canada. Surely other countries will see the upside of a good time, and pranks shall run freely throughout the lands.
Take a few moments for yourself. Consider it self-care. And find the right recording that fits you and your friend's sense of humor. Whether it's politics, everyday problems, or even a good old-fashioned Rick Roll, there's something out there for everyone. Dip your foot into a prank phone call website. It will come back tickled.
Try our PRANK CALLS and PRANK TEXTS !